Technology Mentoring Program
Technology Mentoring Program for Faculty Members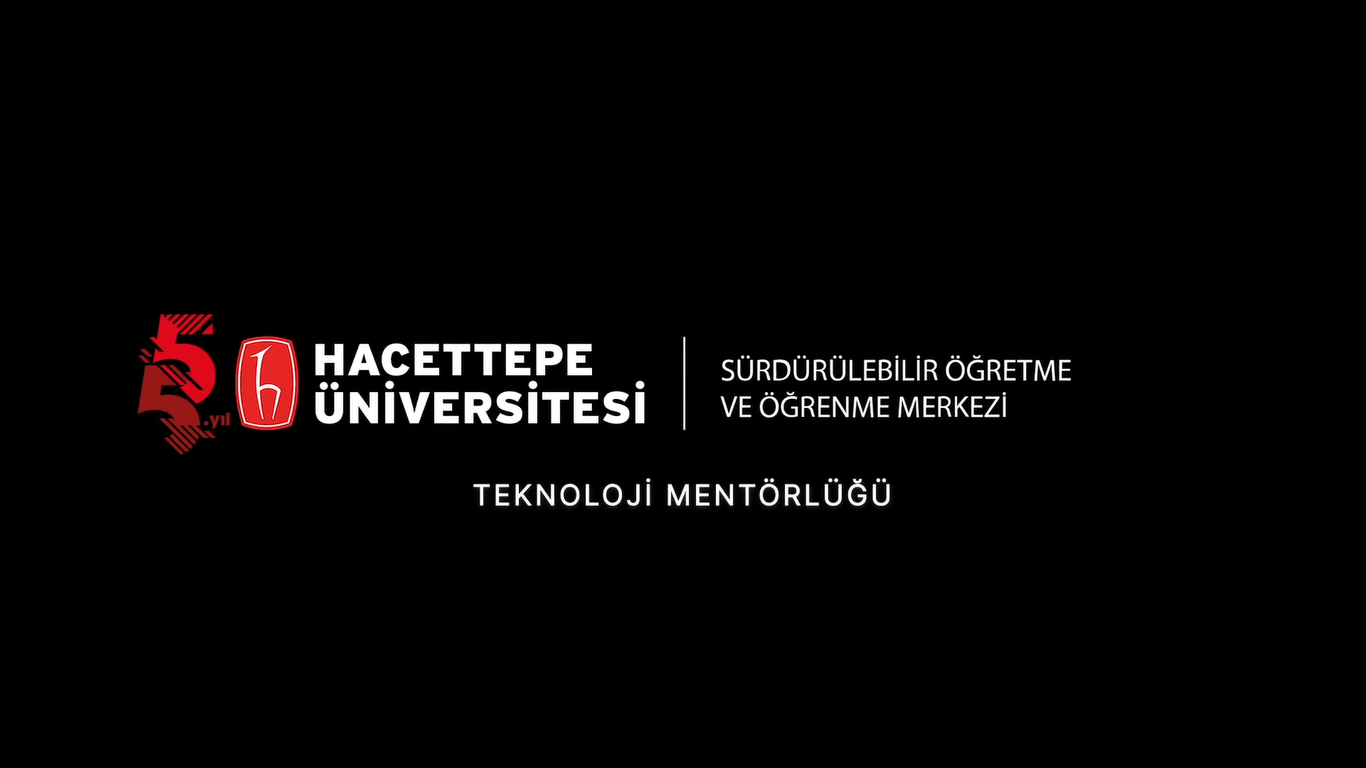 Today, educational environments are also affected by the rapid changes in information and technology, and the use of technology in learning-teaching processes is becoming more common. In this direction, it seems important to develop the technology-related competencies of all teaching staff in order to use technology effectively in improving teaching in higher education.
Hacettepe University Sustainable Teaching and Learning Center (STL) implements the "Technology Mentoring for Faculty Members" program in order to improve the technological skills of our faculty members and to support their effective use of technology in their classes. In this program, it is aimed that the successful students of the departments in the field of Informatics and the faculty members who need technology education are matched, and the mentor-faculty couples work on technology-related activities on a regular basis every week. Sample activities include developing interactive materials, creating and editing videos, using the Learning Management System, increasing interaction in live lessons, graphic and web design.
The schedule of the process, which is planned to last 5 weeks in total, is as follows:
2022 Autumn Calendar

Deadline
Register Sign up for the program using the link
1 October – 6 November, 2022
Filling in the electronic form required for mentor-teaching staff matching
7-13 November, 2022
Completion of mentor-faculty pairings
14-20 November, 2022
First meeting: structuring the process
21-27 November, 2022
Second interview: Modeling
28 November- 4 December, 2022
Third call: Supporte
5-11 December, 2022
Fourth call: Support
12-18 December, 2022
Fifth interview: Articulation and Reflection
19-25 December, 2022
Evaluation and sharing
26-30 December, 2022
2022 Autumn Term Technology Education List
Within the scope of the program, the topics that will be supported in technology education this term are listed under 5 headings. These; a) Developing interactive materials, b) Creating and editing videos, c) Using the Learning Management System, d) Increasing interaction in live lessons, and e) Graphic and web design. Below, the entire training list is presented under the main headings.
Interactive Material Development Trainings
1- Designing Interactive Materials with H5P
2- Developing Visual Materials Using Canva
3- Preparing Interactive Presentations with Prezi
4- Creating Interactive Presentations with Canva
5- Basic Animation Development (Pawtoon, Animaker)
6- Mobile Application and Game Development
Video Creation and Editing Tutorials
1- Interactive Video Design for Asynchronous Lessons
2- Making Basic Videos with After Effects
3- Video Editing
Learning Management System Usage Trainings
1- Lesson Design in Moodle
2- Course Design in Microsoft Teams
3- Preparing Exams and Ensuring Exam Security in Moodle
Trainings to Increase Interaction in Live Lessons
1- Using Nearpods
2- Creating an Online Quiz (Kahoot, Quizlet)
3- Using Zoom (Breakout Room, Creating Polls, etc.)
4- Using Simulation in Distance Courses (Basic Electric Circuit in Physics, Science, etc. Courses)
Graphic and Web Design Trainings
1- Basic Drawing with Adobe Illustrator (or Inscape)
2- Using Blender for Basic 3D Modeling
3- Web Design with WordPress